Don't miss the latest stories
Share this
Photog's 'Make Instagram Instagram Again' Movement Actually Reversed The App
By Mikelle, 01 Aug 2022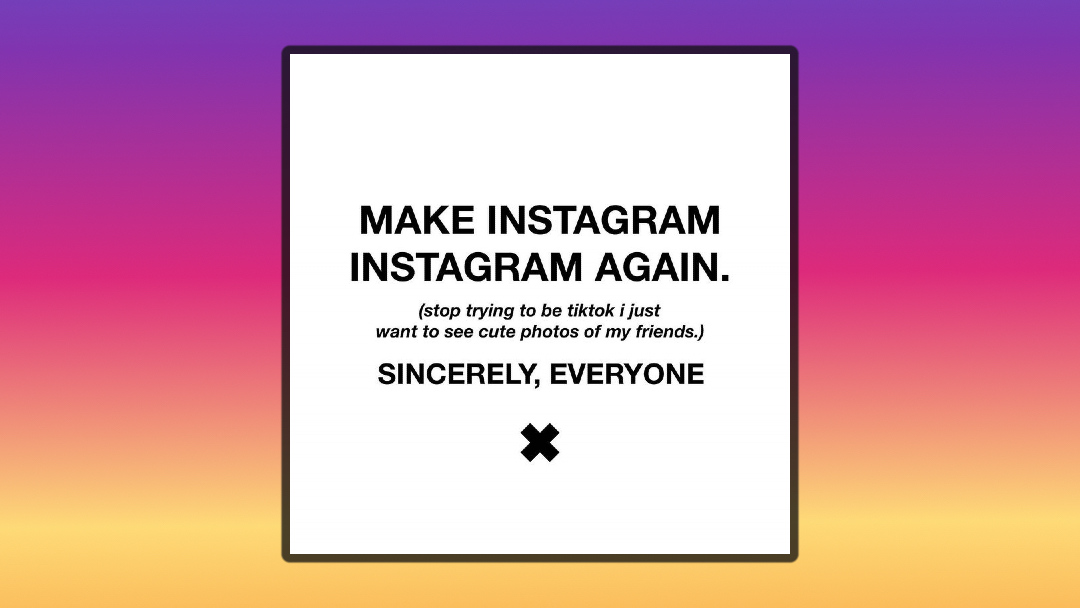 Meta has been making desperate attempts to reclaim users' interest from social networks like TikTok, to which the people say: stop making fetch happen. Never-before-seen declines in active users and earnings drove an impulse for Mark Zuckerberg-owned Facebook and Instagram to change themselves by prioritizing vertical posts and recommending posts from outsiders, instead of loved ones. All this, of course, backfired.
Like many, 21-year-old photographer Tati Bruening was annoyed at Instagram's decision to overhaul its traditional photo-sharing stance for one rooted in Reels, a video format almost identical to TikTok clips.
Instagram was losing its personal touch, and it seemed disrespectful that it was leaving longtime creatives—users who'd built their livelihoods on the social network—in the lurch for younger creators. Plus, who needs two TikToks? Nobody.

In response, Bruening created a meme calling for the app to "Make Instagram Instagram Again," a move she'd later tell Gizmodo was simply done out of "momentary frustration." She also launched a petition on Change.org to get the word out.
View this post on Instagram

The photographer, who currently has 331,000 followers on her Instagram account @illumitati, had been direct with her terms in the petition. She called for Instagram to restore its algorithm to back when it favored photos. "For Pete's sake, we didn't have video on the app until the developers were scared of Vine," she wrote.

The creator reiterated that Instagram should "stop trying to be TikTok" and that "we have TikTok for a reason," citing that Instagram would run out of original and creative posts if it tried to be like TikTok.

"Let's face it… [most] Reels uploaded are recycled TikToks and content that the world has already seen," Bruening added. "What's innovative and unique about old stale content? Nothing!"

Importantly, the photographer asked for Instagram to go back to being "a platform that listens to creators," describing: "It feels wrong to switch the algorithm on creators that have made a living and contributed to the community forcing them to change their entire content direction and lifestyle to serve a new algorithm. Listen to the community. Take our thoughts and requests into consideration!"

In her view, Instagram and TikTok both serve different purposes and audiences. The former rates high on aesthetics and curation, whereas the latter is more casual and in-the-moment.

While Bruening encouraged others to share her meme, she never expected for the post to snowball into virality. But it eventually reached the Kardashian-Jenners, who unanimously cried out: Instagram is failing to keep up.
Kylie Jenner, the third-most popular user on the app and its most-followed woman with 362 million followers, shared the meme. So did Kim Kardashian, who has 327 million followers; and Kourtney Kardashian, who has 192 million followers.
Kylie Jenner, with 360 million followers, takes issue with the IG redesign: "Make Instagram Instagram Again" pic.twitter.com/zYPYvRtAGT

— Kurt Wagner (@KurtWagner8) July 25, 2022

As of the time of publishing, the 'Make Instagram Instagram Again' movement has drawn over 280,000 signatures on Change.org.

Previously, Instagram head Adam Mosseri doubled down on the TikTok-like redesign, but the public's growing rage—punctuated by the wrath of the Kardashians—has now forced Meta and Instagram to walk back on the changes.

On Thursday, Instagram confirmed it was pausing trials for the full-screen revamp and that recommended posts would be temporarily reduced. In spite of the backlash, Mosseri told Casey Newton's Platformer newsletter that he's "glad we took a risk."

"If we're not failing every once in a while, we're not thinking big enough or bold enough," Mosseri added.
[via Gizmodo and The Guardian, cover image via Tati Bruening]
Receive interesting stories like this one in your inbox
Also check out these recent news