Don't miss the latest stories
Share this
US Publisher Debuts 19th-Century-Style Newspaper That Will Never Be Online
By Mikelle Leow, 02 Oct 2023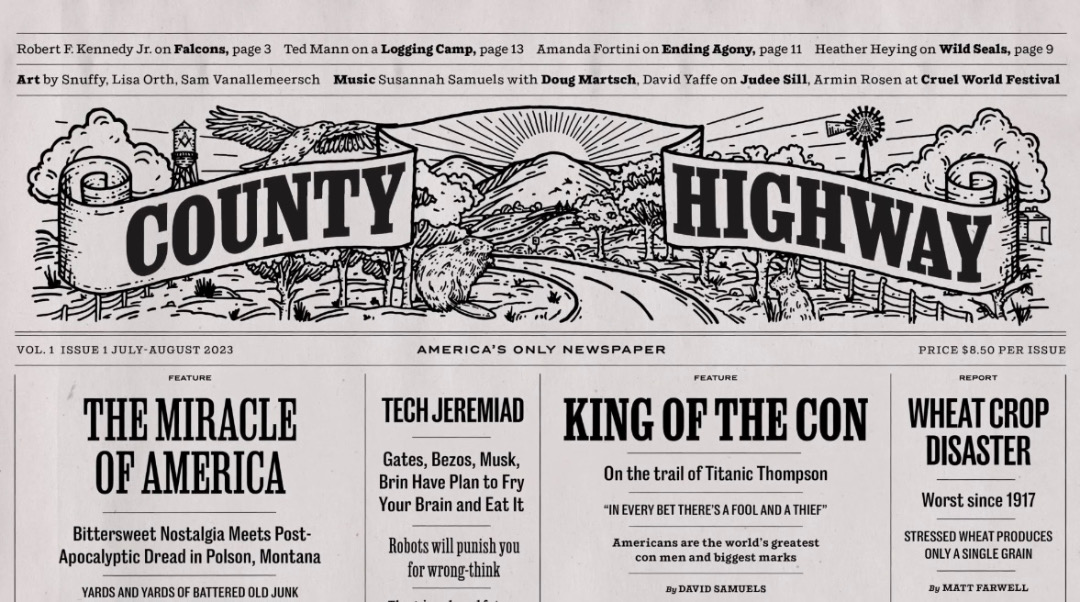 Video screenshot via Pentagram
Defying the consumption habits of the TikTok age is one very brazen US publisher. The new County Highway, which professes itself as "America's Only Newspaper," is boldly harking back to the golden era of ink-stained broadsheets. This bi-monthly publication is a love letter to the slow days and joys of reading in print, dressing itself up as a 19th-century newspaper and providing a fresh change of scenery for spotlighting modern-day events.

County Highway has taken a resolute stance against the digital age—it won't have an internet edition. Its online presence will be limited to select articles for subscribers, headlines on social media, and an implication that the heart of the experience is offline.
Designed by the renowned team at design agency Pentagram, the visual identity of County Highway is a testament to its commitment to print culture. Its typography pays homage to 19th-century newspapers, while headlines echo the clipped cadence of vintage journalism.
Conceived during the pandemic, this broadsheet covers a gamut of topics, from art and politics to agriculture and off-grid living, with a focus on the US. Its position as part of the alternative press is underscored by an entire section dedicated to music.
The next issue of County Highway goes to print tomorrow! Here's a peek at one of our cover stories, featuring Hell's Angels with five-inch knives, BDSM and Airsoft enthusiast strippers, and one grandma. pic.twitter.com/LK0UMla2zM

September 19, 2023
This nostalgic yet fresh take on print journalism is striking a chord. According to co-founder and editor David Samuels (via the Guardian), the paper achieved its targets for year-three subscriptions and sales within the first three weeks of its launch in the summer, despite there being no advertising. Instead, copies of the first issue were simply displayed in bookstores and record shops in the US and Canada, relying on recognition and word of mouth.
"One unsettling way to spend a weekend in our Republic of Occluded Facts is to drive to a small mountain town in Colorado, ditch your phone because it gets no signal (and is a spying device in any case), and speak for hour after trippy hour about aliens and their weird craft with… pic.twitter.com/9DPiCRMSqx

— County Highway (@countyhwy) September 22, 2023
With six issues a year, an edition every two months, and a rapidly growing readership, County Highway is proving that there's still nothing quite like holding a newspaper in your hands and having it blotted by coffee cup rings.
Enjoy some mind-to-table journalism.

Issue #2 of County Highway, our print-only magazine in the form of a 19th century local American newspaper, is now out and on the shelves of over 250 stockists, located in every state in the union.

Subscribe here:https://t.co/MR4KkqWWMe pic.twitter.com/NdCFubuCd8

— County Highway (@countyhwy) October 2, 2023
"Hold it in your hands, fold it into quarters, and read it on your porch on a sunny afternoon accompanied by your favorite cup of coffee, cigarette, or can of beer," quips the paper.

[via The Guardian and Pentagram, images via various sources]
This article was crafted with assistance from an AI engine, and has been manually reviewed & edited.
Receive interesting stories like this one in your inbox
Also check out these recent news